Our popular Candlelight Concert will be held on December 21. Presented by Chorale (the high school choirs), this performance is a beloved tradition full of carols, readings and music of the season. Joining Chorale this year is our 25th Anniversary Alumni Choir…we couldn't be more excited to share the stage with so many of our singers over the years! Alums are encouraged to join in the singing!
Featured on this week's blog is our own Kyle Haugen, Director of the TYC Men's Choir and Co-Director of Chorale. He composed two pieces that will be featured on our Candlelight Concert. Get your tickets for the Candlelight Concert here.
_________________________________________________________________________
TYC: Tell us about how you began composing and arranging. What has been your past experience writing for choirs?
Kyle Haugen: I started composing as a kid. I'd make up melodies at the piano. I also can play by ear, so I've always been "arranging" something, in a sense, by providing an improvised accompaniment to an existing melody. I started writing a bit for choral groups in high school. Sacred music has always been an interest of mine, so in college I did quite a bit of arranging hymns and carols for choir with organ, brass and/or other instruments. My first published piece, an arrangement of the Finnish hymn, "Lost in the Night," went into print in 2000. Anton Armstrong, conductor of the St. Olaf Choir, chose it for the 2001 St. Olaf Christmas Festival, which was broadcast on PBS television for four years. The piece has touched a lot of people, and I still hear from directors and singers across the country for whom that piece has been meaningful. I know sounds clichéd, but I remember that as I wrote the piece it began to feel like something external to me that I was discovering, not something that I myself could claim as my own, so to speak.  I still have a similar feeling when I'm composing — the process becomes about the piece itself, not the composer. I'm reminded of the quote attributed to Michelangelo: "Every block of stone has a statue inside it and it is the task of the sculptor to discover it." I think there's a truth there, at least for me. When a piece isn't working, it's usually because I'm in the way of it. My childhood piano teacher told me to be a "conduit" for the music. I've never forgotten that, and whether I'm playing, singing, or composing, the important thing is to allow the music to come through the artist, not for the artist to impose the creation of the music.
TYC: How did this collaborative project with TYC begin? Where did the text for the piece come from, and how did you choose it?
KH: TYC often programs repertoire in foreign languages. A few years back, one of the Men's Choir members asked, "Mr. Haugen, can we sing something in Polish?" Polish isn't a language students typically study, and the question was out of left field so I thought maybe he was joking with me. But I soon realized he really thought it would be interesting and fun to sing something in Polish. I instantly thought of the Polish carol "Infant Holy, Infant Lowly" and the following December we performed my arrangement for 4-part men and piano. Last summer I revised the choral parts for mixed choir, and that's the version that the Chorale is premiering this December.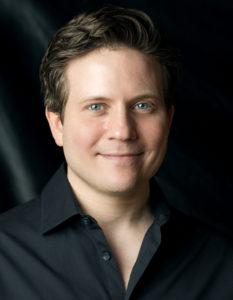 TYC: When you compose, do you begin with the text or the melody? Can you tell us about your creative process?

KH: I often improvise at the piano to develop a countermelody or to explore the thematic material of an existing melody. I also like writing in different styles, from pop music to Baroque. Once I know the vocabulary I intend to use, I can begin to improvise at the piano and hear almost instantly what is going to work or what is out of bounds. Sometimes pieces take a long time to gel even if I have the general sense of vocabulary — one piece of original music I wrote a couple of years ago needed to lay fallow for almost a year before I could come back with fresh eyes and ears to finish it; I wasn't being a conduit for the music and needed to take some time away from it to get myself "outside" of the piece again. In the case of "Infant Holy, Infant Lowly," both the text and melody were already existing. I posed a question to myself: "What if Frédéric Chopin had written a piece based on 'Infant Holy, Infant Lowly?'" Not that I think I'm in the same caliber as Chopin, mind you! But I wanted to explore how Chopin's musical idiom might marry with the carol, since Chopin was Polish and "Infant Holy, Infant Lowly" is probably the most famous Polish carol in the English-speaking world. I wrote a countermelody for the accompaniment reminiscent of the main theme from Chopin's "Raindrop" prelude for piano, and applied some other aspects of his approach to that piece, such as the use of a pedal tone. The result sounds something like a choral arrangement of a nineteenth-century composer's treatment of a folk song. Amy Boers, our accompanist, is simply outstanding and has really made the piano part come to life, which really helps ground it in Chopin's world.
In general, composing for choir or voice must begin with the text. I have written several original melodies on poems or hymns and the text always dictates the shape of the line. The audience must understand the text and have an intuitive sense of the music's relationship to the text or else it simply doesn't work as vocal or choral music (unless you're writing something avant-garde and communicating the text is not really part of your purpose).  For instrumental music, there is, in a sense, more compositional freedom; but the ironic thing is that constraints often free the creative process. For "Infant Holy, Infant Lowly," once I decided on the self-imposed constraint of writing Chopinesque, if you will, I could always tell when something was out of place or needed revision because Chopin's "Raindrop" prelude gave me the vocabulary I needed to use. I was then free to tell the story how I wished, within the framework of that vocabulary. It's not the same as copying or "parroting" Chopin — it's more like writing historical fiction, or perhaps akin to penning a Sherlock Holmes novel in the style of Arthur Conan Doyle. We all know that Holmes expressions like "indubitably" but would never exclaim, "Exactamundo!" Once you know the character's vocabulary you can write for the character. The same concept applied to "Infant Holy, Infant Lowly." I knew Chopin's "Raindrop" prelude for piano since performing it for a competition when I was in eighth grade, so that existing piece of historical music by a famous Polish composer gave me the vocabulary to apply in a new way to the famous Polish carol "Infant Holy, Infant Lowly."
__________________________________________________________
Kyle Haugen, Director of Men's Choir and Co-Director of Chorale,

brings to TYC voice, keyboard, and conducting experience spanning Baroque organ to musical theater. He holds the Master of Sacred Music degree from Luther Seminary, St. Paul, Minn. (with St. Olaf College) and has held church music positions in the Tacoma area, the St. Paul area, and in Boston, Massachusetts, where he was the tenor soloist for the premiere of Daniel Pinkham's Missa Brevis. Mr. Haugen is the assistant director of Northwest Repertory Singers and freelances as a singer, organist, and clinician. A published composer since 2000, his choral music has been performed and recorded across the United States.