Last Wednesday, March 23, Choristers (grades 2-3) and Concert Choir (grades 4-5) joined together to perform for and rehearse with one another. Each group presented a couple of the songs that we are currently working on and practiced our concert etiquette both as performers and audience members. At the end, Mrs. Herrington came in to work with us on two pieces that we'll be singing together in our April 23 concert with David Flood.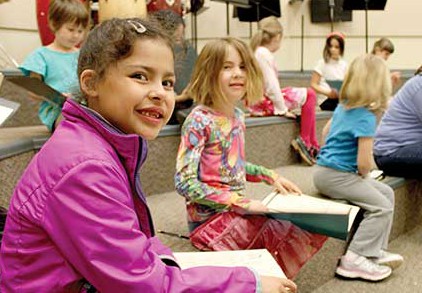 Mrs. Schmidt reflects, "We had such a fun combined rehearsal time. It was very helpful to Choristers to come sing for and with Concert Choir. It helped us to practice performing with confidence and keeping eyes on whoever is directing. It was a valuable time!"
Mrs. Conley-Holcom noted, "Events like this choir exchange, where our groups get the chance to hear singers in other grades, are so meaningful. They offer younger singers the opportunity to envision the choir and teacher they'll work with in the future, and give older groups the chance to see how much they've grown. Choir exchanges and concerts that involve all our ensembles help our singers sense the possibilities for growth in TYC….and we have such a good time making music together!"
TYC families, don't forget that next week we are on Spring Break – no rehearsals. We'll see you back during the first week of April.