This week on the blog, we're sitting down with Maestra Sarah Ioannides, Music Director of Symphony Tacoma (who also happens to be a TYC parent!). Ms. Ioannides will conduct our TYC singers grades 4-12 when they have the honor of being guests of Symphony Tacoma at the Sounds of the Season concert in December!
We hope you enjoy getting to know Ms. Ioannides better!
---
Tacoma Youth Chorus: How did you first get connected with the Tacoma arts scene and with TYC?
Sarah Ioannides: My first connection with the Tacoma arts scene came from my position as Music Director of Symphony Tacoma. Part of my work involves being a leadership figure in the arts community ​and, as such, it is important for me to explore the community offerings. I was fortunate to be introduced to Judy Herrington early on in my time here and invited by her to attend a rehearsal. At that first hearing of TYC, I was immediately touched by the quality of music​-​making and the loving community of musicians​,​ and I knew that it would be a dream to have my children participate in it and that they would love it, too!
TYC: As a parent, why do you choose to have your kids in TYC?
SI: Tacoma Youth Chorus is such a wonderful place to have my children be exposed to music. My girls love to sing​,​ and I know when they come to TYC,​ they get excellent training, enjoy themselves and develop their skills in a healthy environment. Being surrounded by other children who also love to sing and are led by expert teachers who have great values and understand the minds of young people and how to help them grow in all ways is magical. I particularly like that the children sing, are ​exposed to many different languages, and have the opportunity to perform regularly and by memory. They sing with pride and joy, and there is nothing much more touching than children who sing like this.
TYC: As Music Director of Symphony Tacoma, you have a lot of varied responsibilities. Can you tell us about what you do as Music Director, beyond what we see in concert?
SI: Yes, my role is quite varied. In addition to providing a vibrant caliber of performance, my primary responsibility is also the artistic vision and programming content of the orchestra, also the orchestra's personnel, the organization's artistic development,​ and cultivation of many different parts of our organization, including its education programs, the board, patrons​,​ and our Symphony Tacoma Voices led by Dr. Geoffrey Boers. I also nurture connections to our sponsors, grant givers and donors to help our non-profit remain healthy and growing. It is also part of my role to be involved in the artistic life of the city, attend important functions, speak and appear publicly when invited, and help improving the many positives for the orchestra and its mission, Building Community with Music.
TYC:  Please share with us one of your favorite things about your job.
SI: Naturally, conducting the performances is the greatest highlight when all the months, sometimes years of planning for that program, comes to a brilliant and vibrant resounding event.  But, actually, one of the most satisfying parts is the opportunity to develop significant artistic partnerships that enable a very personal and meaningful connection to our community, including the schools we work with, and such as the partners we have so far had such as Hilltop Glass Artists, the Tacoma Glass Museum, Mount Rainier National Parks and Lincoln High School in our recent May performance "Mountain and Sea" which resulted in a new work and film specially created about protecting the environment, which was a world premiere. Feeling the connection that people had to this work (Daniel's Ott's Fire Mountain) was something very inspiring and makes value the joint efforts a community can pull together to speak on before of its people.
TYC: How did you start out in music and what led you to pursue a career in it?
SI: I played three primary instruments – piano, violin and French horn – starting from an early age. I also sang in choirs regularly, took voice lessons, and dabbled in a few other instruments briefly like guitar, saxophone, viola. But it has always been the impact of music itself on me that drew me to spend as much of my time as possible doing it, and therefore choosing it as a career. I used to listen to as much music as the library would let me check out and just absorb it. I often think about whether I'd really like to do something else, and I find myself always coming back to the fact that there is nothing much more satisfying to me than the artistic expression that music is able to give. It is a unique relationship that everyone has with music because of their experiences and for me this connection seems to run deeply inside me. Having the opportunity to share this is a gift that I treasure,​ being able to as much as I can.
TYC: What kind of music do you enjoy listening to in your free time?
SI: I love all kinds of music, even those great pop songs that I grew up with! Closest to my heart, though, is the music of Bach, Brahms, Schubert, and then another period I am passionate about is late 19th century and early 20th century music. I like exploring music I've never heard before or works that I have wanted to get to know better – the repertoire is so vast that I am not sure I'll ever know all the music that I want to know. I am often exploring new repertoire for program planning. Then, sometimes for a complete break, I just turn on one of my favorite operas, or find a jazz station, or find some Broadway which is just great fun to listen to. But in reality, there isn't too much free time, as mostly I have the music processing that I am conducting, and I like to give that space to develop.
TYC: What suggestions do you have for young musicians who are interested in conducting and/or careers in the music field?
SI: Be prepared to be fully occupied with it and to work extremely hard. I don't know any musicians who haven't worked extremely hard because it is so competitive. So, persistence is also key, and that can be everything from the determination to learn a score in great depth to finding out everything you possibly don't know about how to conduct, play or sing; try to equip yourself with the right skills so you can succeed. A good teacher for everyone is imperative, and I recommend also more than one teacher sometimes for perspective. For conductors, play in an orchestra or band/choir, learn several instruments, several parts, study as much repertoire as you can, score read, listen and enjoy the wealth of recordings (but make sure none of that substitutes your own learning of the score). Read books on what conductors need to know and how careers are developed. Always go to work prepared, and get to know your colleagues in the field. I'd say one of the things that has really helped me be successful is being a meticulous planner and organizer. Without that I would probably be in the wrong city, wrong time, with the wrong set of notes in my head! Only try this as a career if you know it is your calling. It must be in you from your bones and heart.
See Sarah Ioannides, Symphony Tacoma, and the Tacoma Youth Chorus in action on Sunday December 3 at Sounds of the Season! Get your tickets here.
---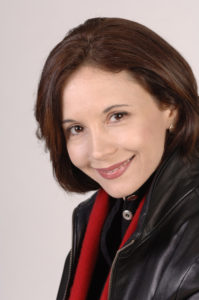 Music Director of Symphony Tacoma since 2014, and formerly Spartanburg Philharmonic and El Paso Symphony from 2005, Sarah Ioannides is listed as one of the top 20​ female conductors worldwide by Lebrecht's "Woman Conductors: The Power List.​" As guest conductor, she has appeared with the Tonkünstler, Royal Philharmonic, Orchestre Nationale de Lyon, Cincinnati Symphony, Gothenburg Symphony, Flemish Radio, National Symphony of Colombia, Daejeon Philharmonic, Wuettembergisches Kammerorchester, and Simon Bolivar Youth Orchestra.
A zealous supporter of new projects, Ioannides has conducted over 40 world premieres and produced new videos for live orchestral multimedia performances. Her current orchestras received ArtWorks grants for community projects, most recently commissioning music and film spotlighting environmental issues. Passionate about education, Ioannides continues to coach orchestra at high-level conservatories such as Yale University and the Curtis Institute. Former collaborator with composer/conductor Tan Dun, she appears as adjudicator, public speaker, and educator; she serves on advisory boards, ​and has served as ​panelist for the National Endowment of the Arts for the US Government.