---
TYC: How did you first get started playing the piano? What drew you to the instrument?
Amy Boers: I first started learning piano at a young age, 6 or 7 years old. My parents have since told me that I requested taking piano lessons. I remember loving music of all kinds at a very young age, so learning to play the piano must have seemed like a fun thing to do!
TYC: How long have been on the artistic staff of TYC? How did you get involved with this organization?
AB: I have been working with the artistic staff at TYC for 5 years. At the beginning of that time, I was asked to play for a concert when another accompanist was not available. I was honored to be asked, and enjoyed meeting Mrs. Herrington and Mr. Haugen. From that point on, I have played for various combinations of Concert, Chamber, Young Men's, Young Women's and Chorale!
TYC: How is your work at TYC distinct from your work other work as a pianist? What is your favorite part of playing for TYC?
AB: TYC is the only work I do with younger students (Concert and Chamber Choirs) who are really beginning to develop musical skills. This is meaningful to be a part of, because music has become such a language for my own life and I hope to help instill that love of music and the skills to do it well with the students in TYC. I really love hearing them sing!
TYC: A lot of our singers and readers study the piano. Do you have any tips for emerging pianists?
AB: I wish that I had listened to my piano teacher when she encouraged me to practice daily. This kind of discipline early in the stages of studying piano makes it easier later on to enjoy the fun and reward of playing things that sound great! Keep playing and really make sure to learn to read those notes (even while it might be super fun to play by ear!).
TYC: What is your favorite thing about being a professional musician?
AB: I love being a professional musician because it means that my job is something that brings me great joy. I get to work with so many different musicians, that no one day is the same as the next!
TYC: Would you share your favorite memory with TYC?
AB: I was lucky enough to go on tour to England and Ireland with the Chorale in 2014. To watch the TYC kids represent this great organization by their professionalism and beautiful singing was a privilege.
---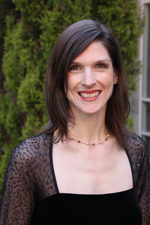 Amy Elizabeth Boers has quickly become one of the region's most sought after accompanists and coaches. Active as an accompanist for ensembles and professional soloists, her playing is characterized by conductors and teachers as deeply expressive, stylistic, artistic, and insightfully supportive of singers and instrumentalists alike. Her current positions include staff accompanist for Seattle Pacific University, Lakes High School, Pierce College. In addition, she is active accompanying soloists and master classes with artists from local universities, the Seattle Symphony and other local professionals. Amy is also recognized as a national leader in Lutheran church music. She currently is on the Board of Directors for the Minneapolis-based Lutheran Music Program, is contributing editor of Augsburg-Fortress's popular Sundays and Seasons worship resource, and active with the Association of Lutheran Church Musicians in planning their national convention in 2011. She continues to act as a worship resource for many regional congregations. Prior to her career as accompanist and coach, Amy was director of the music ministry at Mountain View Lutheran Church in Edgewood, WA from 1997 to 2009.