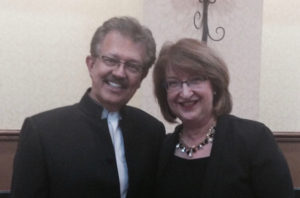 We look forward to sharing with you this wonderful opportunity to work with Henry Leck and our own Judith Herrington at our third Choral Music Educators Workshop on Saturday, October 20.  If you're a music teacher – voice, church choir, school – or music student — high school or college — you're invited to join us for a great day of music and fun!
Henry Leck brings inspiring ideas and teaching strategies to this workshop; his work will focus on working with the boy's voice.  The demonstration choir will include our Concert Choir guys (grades 4-5), Chamber Choir guys (grades 6-8), and our Men's Choir (grades 8-12).
Judith Herrington will be sharing teaching strategies for introducing part-singing to young singers. Always our focus is creating positive and successful experiences for singers. She will include ideas for using physical gesture to introduce vocal concepts to young singers and which can be applied to experienced singers, as well as supporting classroom management.
Past workshops have been great successes, enjoyed by workshop attendees:
"This was a lovely experience!"  "Fantastic day, great workshop!"
"Very informative and engaging!"  "Even chocolate – you thought of everything!"
Bring a teaching colleague to share this workshop! You will receive music scores and lots of great ideas. A light continental breakfast and lunch is included in the price. College students and high school students interested in music education are invited to attend at a discounted price. We know you will find it a motivating and fun experience!  And we promise there will even be chocolate!
More information, including registration information, here.