Our alums go on to pursue a variety of career paths and pursuits –  but their TYC foundation stays with them forever. This week on our blog, get to know Katie Tinsley (Leonhardt), a 2005 alumna!
---
TYC: When did you sing with TYC and for how long? What was your TYC experience like?
I started singing with TYC in 5th  grade and sang all the way through high school, so 8 years! During grade school, TYC filled my soul with beautiful music, the best of friends (shout out to Karla Stoermer, Katie Tuite, Bekah Schmidt and Laurel Semerdjian) and gave me professional, creative, and culturally-focused life skills that I use everyday. I was fortunate to attend two international tours, which sparked my life's passion of global travel.
---
TYC: Tell us your favorite TYC memory.
It was a hot, muggy day when I sang for the last time as a singer with TYC in La Madeleine Church in Paris, France. We all held hands surrounding the audience as we sang 'Blessing' to close the concert. All alumni will appreciate that last time singing 'Blessing' before graduating from TYC. It was one of the most spiritual moments in my life. In the
moment, I felt connected to complete strangers and thankful for the opportunity to sing with such amazing musicians under the best mentor, Judy Herrington, for so many years. It was a moment I will never forget.
---
TYC: How has music, and choral singing in particular, impacted your life?
I believe music has been my calm during many storms in life for as long as I can remember. My job is stressful, but music has a way of making my spirit feel whole again. Quite frequently, I'll listen to old TYC CDs on my way home from work or when I cook. TYC taught me how to make music a cathartic and necessary part of my daily life.
---
TYC: What are you up to lately? What do you do professionally?
My husband, John, and I live in Tacoma's North End with our gigantic Alaskan Malamute named Finn. I have been an ER/Trauma Nurse at St. Joseph Medical Center for the past seven years and continue to love this fast-paced, adrenaline rush of a job. Recently, John and I took three months to travel around the world and volunteer in Nepal. I'm forever grateful for the experience to travel with my love, learn about new cultures and languages, dine on delectable cuisine, and see ancient historical sites.
---
TYC: We know that one of the ways you continue to support the arts is by chaperoning our TYC international tours. What has that experience been like? Do you still sing these days?
I'm humbled by the opportunity to have served on TYC's international tour program as the designated medical chaperone. In my opinion, the international tour is an essential part of the TYC experience. It's an honor to use my professional experience to directly support TYC's mission and help keep singers as healthy as possible while performing abroad. My favorite part about chaperoning is watching singers transform musically and personally, from our first family group meeting here in Tacoma to our last concert thousands of miles away on the other side of the world.
My favorite memory from our last tour was this little old lady outside of Ulm Cathedral in Germany. She wanted to hear 'Somewhere Over the Rainbow' and a group of the singers gathered around her and sang. These moments are priceless! TYC singers connect with people all over the world with the universal language of song.
I don't sing much these days, unless of course, singing in the shower counts. I totally do that. I enjoy TYC alum events where I get to sing and reminisce about wonderful memories. Truly though, I'm more satisfied listening in the audience.
---
TYC: Anything else you'd like to tell us? 
I want to give a heartfelt and sincere thank you to Judy Herrington, the TYC staff and board of directors, and the amazing TYC supporters and donors. Of course, I am also indebted to my amazing parents for not only enrolling me in TYC so many years ago, but demonstrating a lifelong commitment toward supporting this non-profit, community-
supported organization that, at its core, provides direction, confidence, and an appreciation for art and culture to so many young adults. TYC has had such an important impact on my life and I look forward to paying back as I can over many years to come.
---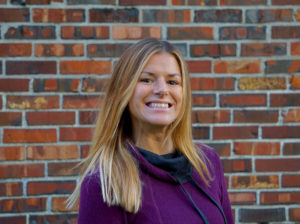 Katie Tinsley is an ER/Trauma Nurse at St. Joseph Medical Center in Tacoma, WA. She earned her Bachelor of Science in Nursing at Gonzaga University in 2010 and attended Bellarmine Preparatory School. She loves all types of music, but musicals are her favorite.