There's still time to register for the upcoming South Sound Elementary Choral Festival coming up Saturday February 10!
This is our second year putting on this program – a partnership with the music education department of Pacific Lutheran University and their program chair, Dr. Linda Miller. (Click here to check out our interview with Dr. Miller from a couple of weeks back.)
At the 2017 SSECF, nearly one hundred elementary singers from across the south sound gathered for a day of singing and learning together. Led by Tacoma Youth Chorus Artistic Director Judy Herrington, TYC Concert Choir Director Leann Conley-Holcom, Pacific Lutheran University Music Education Chair Linda Miller and PLU Music Education students, the South Sound Elementary Choral Festival features large-group singing, music games, and breakout sessions with college students who are training to become music teachers. The day concludes with a sharing program for friends and family, making for a wonderful day of collaboration and music-making!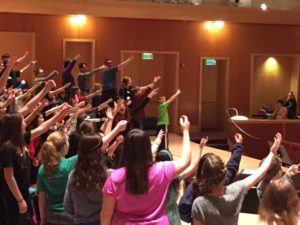 Music educators can learn more about the festival and register singers here. We are still accepting singers for this wonderful day of music!