Our singers go on to pursue a variety of career paths and pursuits –  but their TYC foundation stays with them forever. This week on our blog, learn about Nikki Anderson-Joy, one of our alums who has since become a costume designer in the San Francisco Bay Area!
---
TYC: Welcome Nikki! When did you sing with TYC and for how long? What was your TYC
experience like?
I started singing with TYC in 2000 in the 4th grade and sang through high school in 2009. I am forever grateful to have grown up with this organization! TYC gave me great experiences of traveling to the British Isles, Europe, and parts of Eastern Europe as well. We also traveled to other choral events in the United States and Canada and were a part of the Tacoma Opera's production of Carmen. I was a Chamber Choir mentor, something I did for four years and loved every moment. As part of TYC I gained wonderful friendships and fell deep in love with music.
TYC: Tell us your favorite TYC memory.
Through all the experiences, one memory that comes to mind is when I was in 5th grade. I thought I was going to quit because a friend wasn't continuing on. My mother told Mrs. Herrington this, and Mrs. Herrington brought me out of rehearsal to sing with her. I don't remember what I sang but do remember the feeling that I honestly didn't want to quit. In that moment I knew I belonged here, and TYC became my home away from home. Since that moment TYC became my favorite thing to be part of. I learned to never do anything because of another person, but do it for yourself. I stayed and had a self-discovery that I need to be surrounded by music and be with individuals who were there with the same passion.
TYC: How has music, and choral singing in particular, impacted your life?
For me choral singing has been the calm to my storms. I do often listen to old recordings of TYC to calm my nerves and recall all the great memories. Choral music has also helped me with self-discipline because when you sing with other individuals you rely on one another for support; you have to be 100% so the choir can produce wonderful music.
TYC: What are you up to lately? What do you do professionally?
I moved to the Bay Area in 2011 and currently live in Oakland, California. I studied costume design in college and graduated in 2014. I am a local costume designer in the Bay and am also a costume assistant at the San Francisco Opera. I am going into my third season with them this May. In my free time I illustrate. I love to draw the way I see the Bay, taking in elements of the city, using text and lines. My style is black and white using the matter of lines to tell the story.
TYC: Do you still sing these days or support the arts in other ways?
I unfortunately don't sing anymore, but I would love to find something here in the Bay. I do however support the arts by being a part of the local theaters. I also go to see a lot of plays, musicals, and operas, visit artist studios and shows, and see other local music and choral organizations, like Chanticleer. My everyday life is surrounded by the arts.
TYC: Anything else you'd like to tell us?
I want to graciously thank Mrs. Herrington for all the wonderful years, and would love to thank the staff and parents that are the support system to TYC. I am incredibly thankful to say that I was a part of Tacoma Youth Chorus. It gave me so many opportunities to grow, and being a part of this wonderful organization has changed so many children's and young adults' lives. TYC forever had an affect on who I was then, who I am now, and who I will be in the future.
---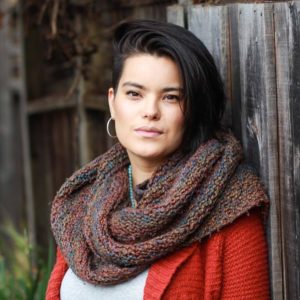 Nikki Anderson-Joy 
is a Costume Designer and Costume Assistant at the San Francisco Opera in the Bay Area. She resides in Oakland, CA. She earned her Bachelors of Fine Arts in Costume Design at the Academy of Art University in 2014. She grew up in Tacoma, Washington and graduated from Stadium High School. Nikki's favorite kinds of music to listen to are opera, classical, and jazz. To learn more about Nikki and to view her artwork, visit 
nikkiandersonjoy.squarespace.com
.