We are privileged to have so many TYC singers who show strong leadership and dedication to music-making! Our student leaders who move up to a new choir level have the opportunity to mentor in a younger group. Mentoring is both an honor and a big responsibility!  In addition to singing in their primary choir rehearsals each week, these leaders attend extra rehearsals to provide leadership in the choir they mentor.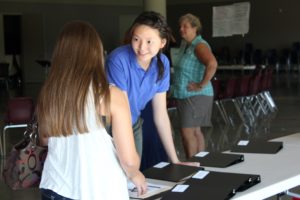 Being a TYC mentor also means to:

Sing in performances with the choir you mentor

Assist new and visiting singers 

Sit next to someone who could use some extra support

Help collect music and sort music when needed

Assist the rehearsal assistant with setting up equipment, chairs and name tags 

Help singers with lineup at concerts
We asked some of our mentors the following question: 
Why do you mentor younger singers in TYC? What does this experience mean to you? 
Here are some of the responses we received:
I mentor because I enjoy setting an example. The experience is that I get to go back to my old classroom and see my old teacher and friends again.  
-Emma, Mentor for Choristers 
I mentor the 4th and 5th graders in Concert Choir for many reasons. One is that mentoring gives me a sense of responsibility and helpfulness. I also do it because ever since 4th grade when Mrs. Conley-Holcom and Mrs. Herrington mentioned that the fifth graders get to mentor, I've wanted to. No faults, no doubts. I wanted to be a mentor. Last, but not least, no matter how old I am, I will always love Concert Choir! – Kayla, Mentor for Concert Choir


I mentor so I can help young singers navigate the problems that having a changing voice presents. To me this experience means a lot to me because I want to teach music when I'm older, and learning to deal with people is an important part of that.

– Ben, Chamber Choir Mentor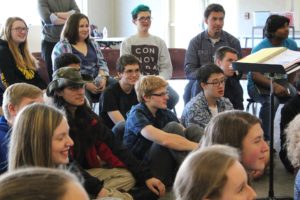 I mentor younger singers in TYC because it provides an opportunity for me to expand my leadership skills and to have the opportunity to work with others. I enjoy singing with the younger students and love to help them improve on their musical abilities.This experience for me means that everyone has the capability to help others. Having been a mentor my entire high school education, I noticed that myself and the mentors that I've been mentoring with take this opportunity because for one, we love TYC and it has been a huge part of our lives, and two, we all want to be able to give the same music experience we had to the younger students and be able to help them, expand their musical skill knowledge, and possibly even influence them to become mentors when they're older.

-AJ, Mentor for Chamber Choir 
We are truly grateful to all our TYC mentors for the wisdom, leadership and dedication they offer to our program. Our mentors make TYC even better!