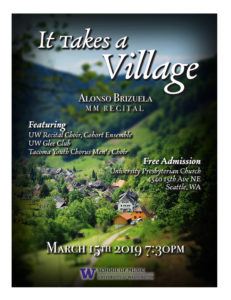 This Friday, the Tacoma Youth Chorus Men's Choir will be collaborating with multiple choirs from the University of Washington.  Titled It Takes a Village, the concert will not only feature selections from the TYC Men's Choir, but also a variety of selections from around the world all relating to the "villages" that make up our lives.  This concert will be conducted by our Men's Choir director, Alonso Brizuela, as partial requirement for his Masters degree in choral conducting.
The concert is this Friday night, March 15, 7:30 pm, at University Presbyterian Church in Seattle. Everyone is welcome; admission is free!
We are looking forward to this wonderful evening of music from around the world and hope to see you there!