Last week on the blog, a 10-year-old Concert Choir member told us about her favorite song in her choir folder right now and what she loves about it.
This week, hear from the director of our youngest choirs, Connie Schmidt, as she reflects on how young singers connect with music:
---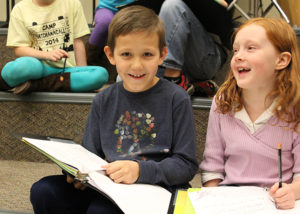 "Over the past 13 years, working with the youngest of the TYC singers, I've been fascinated by what rise to the top as 'favorite' songs. For some, the sonority, color and tonality of the piece captivate. For others, it's the text – words that paint a picture, text that tells of deep emotions, poetry that feels humorous or happy as it comes out of one's mouth, or has a sly joke. Some children respond strongly to the cultural or historical setting or another language. Others latch on to a particular song because of an accompaniment, a guest instrumentalist, or getting to play a percussion part. And for some children, a song becomes memorable  only after performing it, when the influence of the occasion,  the performance setting and the connection with the audience all combine to create a visceral body-mind memory.
These are some of the reasons I love working with younger singers. So much is new to them. The abandon and sincerity of their singing inspires and captivates me
."
 -Connie Schmidt, Director, Music Makers & Choristers
---
Connie Schmidt graduated from the University of Texas at Austin and during the 30 years since performed with a professional Bach Choir, taught private voice and piano and continues to work with church music. Mrs. Schmidt taught elementary music in Texas and Alaska and currently teaches at Concordia Lutheran School where she was awarded the Teacher of the Year in June 2004. She has co-authored articles for Hal Leonard Publisher music magazine and continues learning through studies with Rodney Eichenberger, the American Choral Directors Association, The Choristers Guild and the International Voice Care Network. She joined Tacoma Youth Chorus as Director of Music Makers in 2002.