Guest Conductor • Organist and Master of the Choristers, Canterbury Cathedral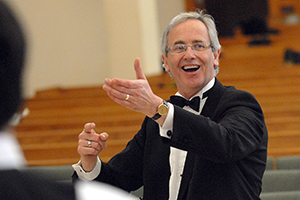 It means the world to all of us at Tacoma Youth Chorus to have our very special friend, David Flood, returning to spend a week in residence rehearsing with our choirs. The friendship forged over the past 12 years with Dr. Flood — gifted teacher, mentor and musician — is something we hold dear.
Working with Dr. David Flood is forever one of my favorite "extra" things about this choir, and it is beyond words how brilliant and beautiful his teachings are." Kaylee, age 18
Dr. Flood began his musical studies at an early age and held his first parish church organist post at 15; he has been deeply involved with church music ever since. Having previously studied at both Oxford and Cambridge Universities, he was Assistant Organist at Canterbury and then Master of the Choristers and Organist at Lincoln Cathedral. He has been Master of the Choristers and Organist at Canterbury Cathedral, England, since 1988.  The choir of Canterbury Cathedral performs every day at the highest standards, with a repertoire of music spanning 600 years.  David has made a sequence of highly acclaimed recordings with them together with regular TV and radio appearances.  The choir continues to tour extensively in Europe and in North America. Tacoma Youth Chorus was honored to host his Choristers in 2012.
Dr. Flood enjoys one of the best roles in the world, to direct beautiful music on a daily basis in Canterbury Cathedral and travel to work with friends around the world.  He was awarded the Honorary Degree of Doctor of Music by the University of Kent in 2002 and an Honorary Fellowship of Canterbury Christ Church University in 2008, where he has recently been elected a Visiting Professor in Church Music. Tacoma Youth Chorus tour singers studied with
Dr. Flood at Canterbury Cathedral in 2003, 2005, 2011 and 2014. In addition, Dr. Flood has served as a guest conductor for week long studies with Tacoma Youth Chorus four times – in 2006, 2008, 2010, 2013, and planned in 2016.