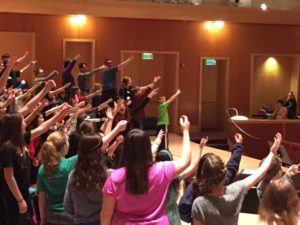 TYC is gearing up for the second annual South Sound Elementary Choral Festival coming up Saturday February 10 – a partnership with the music education department of Pacific Lutheran University and their program chair, Dr. Linda Miller.
In 2017, nearly one hundred elementary singers from across the south sound gathered for a day of singing and learning together. Led by Tacoma Youth Chorus Artistic Director Judy Herrington, TYC Concert Choir Director Leann Conley-Holcom, Pacific Lutheran University Music Education Chair Linda Miller and PLU Music Education students, the South Sound Elementary Choral Festival features large-group singing, music games, and breakout sessions with college students training to become music teachers. The day concludes with a sharing program for friends and family, making for a wonderful day of collaboration and music-making!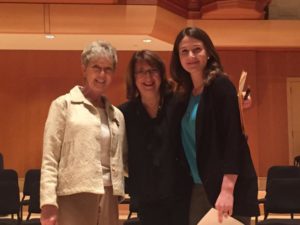 Music educators can learn more about the festival and register singers here. We are still accepting singers for this fantastic opportunity!
Today on the blog we hear from Dr. Linda Miller about the upcoming festival, music education at PLU, and the value of music for each of us. Read on!
---
TYC: Dr. Miller, we are so pleased to be collaborating with you and the PLU Music Department for the South Sound Elementary Choral Festival for the second year in a row! What can singers and teachers who participate in the festival expect to leave with?
Linda Miller (LM): Students will leave having had the experience of singing in a large ensemble and learning from college music education students. Teachers will leave having had the opportunity to both see another director work with their students, and to participate in a mini-workshop about accessing and using handchimes in the elementary classroom and with their choir.
TYC: How is the PLU Music Education Department involved in the festival?
LM: Many of our students are away right now studying abroad during J-term, so this will be a quick turn around for them when they get back.  Some of our music ed students will be developing plans for and leading the breakout sessions for students during the rehearsal breaks.  This is an opportunity for them to apply things they have been learning and practicing in the classroom.
TYC: Can you tell us about your role as Chair of Music Education at PLU? What should our readers know about the Music Education program at PLU?
LM: The music education program at PLU provides excellent preparation for entering the K-12 music classroom.  We continue to revise and update our curriculum to provide more field work and relevant focused coursework.  Students have ample time with professors both inside and outside of class and multiple support systems for navigating a rigorous program.
TYC: What is your favorite thing about your job?
LM: In a word: students.  We spend a lot of time together over the four and a half years students are here.  We have several classes together, work on events such as the festival together, and participate in professional organizations together.  And of course, we make music together.  All of this promotes a supportive cohort of people who become much like a family.
TYC: Do you have any advice for young musicians who are interested in pursuing a professional career in music?
LM: You need to love music enough to work very hard over a long period of time.  Music is demanding, but there is no greater reward than seeing a student realize musical success. Start early participating in music, learn as much as you can about music theory, take piano lessons, and listen to a wide variety of musical genres and styles.
TYC: Anything you'd like to add?
LM: Brain research tells us that music is a basic part of being human.  It is a part that should be developed and educated as thoroughly as our linguistic or mathematical parts.  It is a unique way to experience our world and communicate ideas and feelings.  Every person should be able to engage in rich musical experiences throughout life.
We look forward to welcoming local music teachers and elementary singers at Pacific Lutheran University on February 10! Register now!
---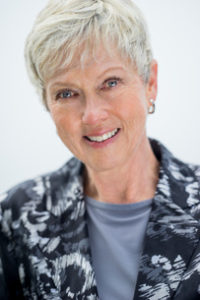 Linda Miller holds a BA in music education from New Mexico State University, a Master of Music in  music education and a Ph.D. in Education from the University of Idaho.  She currently serves as Chair of Music Education at Pacific Lutheran University in Tacoma, where she teaches music education courses, supervises student teachers, serves as faculty sponsor for CWMEA and directs a handbell choir.  For the past two years, she has served as Chair of the Collegiate Advisory Council for the National Association for Music Education (NAfME).  Miller has served on committees to provide input to the Professional Educator Standards Board on certification and testing issues for teacher candidates, and is an active participant in WACTE (Washington Association of Colleges of Teacher Education).   Her research interest is in musical neuroscience and cognition, an area in which she is a frequent presenter at conferences, workshops, and school district professional development meetings.