This week on the TYC Blog, we're going inside our Men's Choir (9-12th grade) music folders to highlight one of our current favorite pieces: Keep Your Lamps, an African-American spiritual arranged by Victor C. Johnson.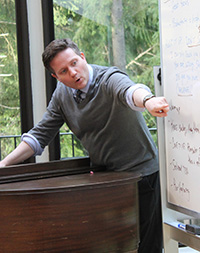 Kyle Haugen, Director of the Men's Choir, strongly recommends it:
"I'm a fan of Victor C. Johnson's works. He's quite popular, so I realize I'm not alone. But for good reason: He has a knack for creative, fresh arrangements and compositions that really honor the text and offer possibilities to share 'wow' musical moments with the ensemble. Ther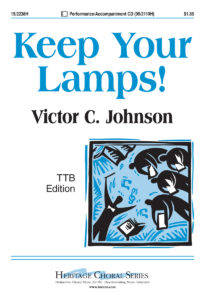 e's often a spot or two that requires careful teaching, but the rest of the piece is usually quite accessible, and in my experience  the end result is always rewarding.
Keep Your Lamps
is a great example of this, and the Men's Choir really likes this piece.
We've spent a long time on a jazz chord near the end of the piece and working contrasts in tempo and dynamics throughout. We've discussed how the sections of the piece are constructed, and this background info is paying off in their understanding of how to deliver this piece to the audience. I love these guys! Can't wait to hear it performed in a few weeks for our evening with David Flood."