Next week is a big week for Tacoma Youth Chorus! Henry Leck is coming to work with choirs, AND he will help present a workshop for all of you educators, church musicians, and college students out there!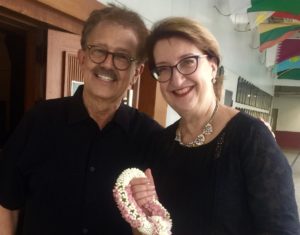 On Saturday, October 20th, we are hosting a Choral Music Educators Workshop; Judy Herrington & Henry Leck with be co-presenting, sharing their expertise on choral music. There will be sessions on music classroom and rehearsal techniques, working with the male expanding voice (with a demo choir of TYC singers, grades 4-12), and teaching part singing. A reading session plus general Q&A will round out the day's activities.  
"I'm looking forward to returning to the Pacific Northwest to work with teachers, singers of the Tacoma Youth Chorus and my friend and colleague Judy Herrington." – Henry Leck

"All of the TYC boys from Concert Choir, Chamber Choir, and Men's Choir are looking forward to singing together for you, and with Henry Leck! We are finding challenges and strengths working together with changed and unchanged voices, and we look forward to sharing these with you." – Alonso Brizuela, TYC Men's Choir & Concert Choir Director

"I learn something new every time I attend the TYC workshop!  In addition, I'm introduced to literature I may not have come across.  It is a wonderful opportunity to talk and sing with colleagues one may not often see." – Dr. Linda Miller, PLU
Registration is still available through our website, and includes lunch, 6.5 WMEA clock hours, and a full day of fun!