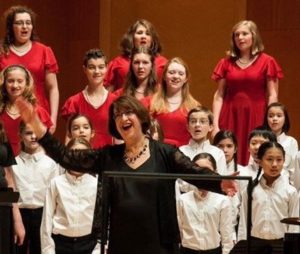 Welcome back from Winter Break! We hope you all had a relaxing few weeks off. Rehearsals will resume as normal this week and we are all looking forward to creating music for all of our performances this Spring!
At the beginning of Winter Break, you may have seen an announcement about our Founder & Artistic Director, Judy Herrington.
After 43 years, Judy will be retiring from teaching music at Charles Wright Academy. Judy's plans are to focus on her responsibilities as Artistic Director and choir conductor at Tacoma Youth Chorus, as well as guest conducting throughout the United States and internationally, and her work as a composer.
Tacoma Youth Chorus will continue its valued relationship with Charles Wright Academy for rehearsals and performances.
In talking with Mrs. Herrington about her exciting new chapter, she said,
"I have always valued that teaching at Charles Wright Academy gave me the opportunity to learn and grow. Next fall I look forward focusing on Tacoma Youth Chorus, still learning and growing. Additionally continuing to work with honor choirs and guest conducting and finding new compositions to write.

And in there time for family, friends, a grandson and travel.

Next year in Tacoma Youth Chorus, we will plan to build on the rich tradition of excellence and music making with our singers and adding new learning experiences and community performance opportunities. Always, lots of possibilities!"
We are very thrilled for this opportunity for Mrs. Herrington and look forward to continuing to make music with her for years to come!