Happy Valentine's Day from all of us at TYC!
In honor of the holiday, we're celebrating the many reasons TYC singers, alums, parents and local teachers love our organization! Read on…
Parents love TYC because….
The successes my kids have today, I believe are a direct result of their TYC experiences…respect, discipline, confidence, professionalism and travel. – Christina Martin
We are so glad our son is a part of your incredible organization and most importantly that he is genuinely loving it. It is wonderful to see the joy the singing brings the kids not to mention us lucky listeners! Thank you! – Jessica & Brent Hill
Singers and Alumni love TYC because….
I like TYC because TYC is not only supporting music but it is supporting art and beauty. (Age 8)
I like TYC because we all have beautiful voices and we all work together. (Age 11)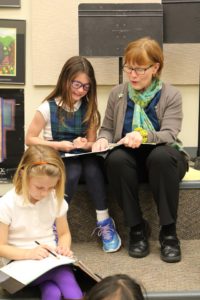 I love TYC because it helps me with singing, while helping me learn to collaborate with other wonderful people. (Age 12)
Learning music with friends is a blessing. (Age 13)
I love TYC because I love being in an environment where people love music as much as I do. I have learned so much through my experience here! You help our singers make music. (Age 16)
Attending rehearsals every week lifted my spirits, strengthened my musicianship, and made me feel valued. Being in TYC taught me the value of commitment, responsibility, accountability, artistry, work ethic, confidence, and most importantly, success. Now that I am "all grown up," I can say that feeling successful as a young singer in TYC was one of the best feelings I have ever experienced. It inspired me to learn how to give that feeling to others. – Kasey Eck, TYC Alum & Steilacoom High School Choral Director
Thank you, for doing the exceptional. Not in just the music, but in the lives of your members. – Emma Pitts, TYC Alum
Teachers love TYC because…
The singing was so polished and effortless from every age group! So much exceptional teaching going on!! – Dr. David P. Robbins, Professor Emeritus of Music, Pacific Lutheran University
Mrs. Herrington and Tacoma Youth Chorus staff have created a rich choral environment that has inspired hundreds of young singers, including my daughter, to cultivate and grow their passion and love of singing. It has been a privilege and honor to be a part of the TYC family. – Katherine Elshire, Pioneer Middle School
---
Want to learn more about our amazing community? Read more here.
If you already love TYC, do you know someone who'd love TYC too? Have them contact us and/or bring them to visit a rehearsal!