Chris is our new accompanist, working with Music Makers, Choristers, and Men's Choir. As the first installment of our "Why I Sing" series, we wanted to ask Chris some questions related to his experiences with choral singing, TYC, and music in general.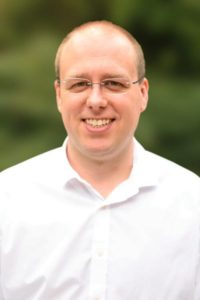 TYC: What are some of your earliest memories of singing in choirs/listening to choral music as a young student in Oxford, England?
CH: My first experiences of choral music were at school singing an English version of selections from Bach's Christmas Oratorio (I remember that I had some short solo as part of a recitative). The first choral listening that completely changed my life was listening to a Naxos highlights CD of Bach's Matthew Passion. I immediately wanted to purchase the full 3-CD set and also attended a local choral society performance (that while it was probably not of the highest standard, but good enough that the musical fabric became seared into my very being!).

TYC: What has drawn you to singing? What do you enjoy about it?
CH: My earliest singing memory is of my mum singing nursery rhymes to me. Also, my brother and I used to record songs onto a cassette deck as part of our "radio" shows. I think these experiences combined with playing organ in church, finding an inspirational singing teacher at sixteen, and subsequently attending the Eton Choral Course directed by Ralph Allwood gave me a platform to want to pursue singing and choral directing as a major part of my musical career. Honestly, it just feels good to have access to an instrument that one can carry around (unlike a large pipe organ or grand piano)!

TYC: Through your eyes (and ears), what makes TYC different than other choirs you have sung with or worked with?
CH: TYC feels about as close to the English tradition of choir schools as I have found in the Pacific Northwest. On the East coast, I look to somewhere like St Thomas', 5th Avenue, New York City but for secular choral opportunities, TYC stands with the very best. I appreciate the care given to detail at the same time as making rehearsal time enjoyable. I think the professionalism from the top downwards (including high expectations of the individual members of the choirs) is key.

TYC: Anything else you want to share about your experiences with choral music?CH: Choral music can be both frustrating (when you are sick with little or no voice!) but it can also give some of the greatest pleasure. There's something really special about using your body to make sound as part of a large group of diverse people. The term "universal language" is used a lot when discussing music but I see more and more that it has a power to bring people together and break down the walls we seem to want to construct around ourselves…
Thank you for sharing your experiences with us, Chris! We look forward to continuing to work with you throughout the year!